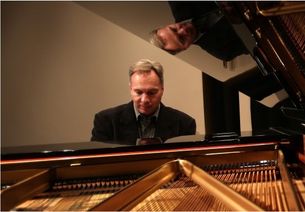 Steve Dunn began experimenting with creating musical ideas as a child. He wrote his first simple songs and piano pieces while in elementary school, his first instrumental ensemble pieces while in middle school and was writing for choir, orchestra and school band while still in high school.
By the time he finished college, he had already had his work published, and several other publications soon followed. Since that time, he has worked extensively as a composer, arranger and orchestrator of works for choir, orchestra, concert and marching band, small instrumental ensembles, television and radio commercials, and music for recording. His more than 300 published works - which represent only a fraction of all he has written - are found in the catalogs of numerous different publishing houses.
Another of Steve's great loves is working with other people to create music. He has been conducting choral and instrumental groups of all kinds, consisting of people of all ages, for more than 30 years. For most of those years, that work has been done in the context of church music; since 2012, Steve has been in a new role as an Associate Professor of Music and Director of Instrumental Studies at The University of Mobile in Mobile, Alabama. He directs several instrumental ensembles - including Symphonic Winds and Welsh Revival - while continuing to write music and teach others. He has music degrees from Jacksonville State University (brass performance) and the University of New Mexico (composition), and has done additional graduate study in church music at The Southern Baptist Theological Seminary.
Over the years, Steve has been in demand as a guest conductor (choral and instrumental), speaker and teacher for schools, churches, universities and various conferences at the local, state and national level. He also has contributed as an author on the subject of church instrumental music for various print and online periodicals.
As a young person, Steve came to understand that God loved him and had sacrificed much to demonstrate that love. He is a follower of Jesus whose greatest joy is sharing that same love with others through any means available - but especially through music. He strives to live out his life of faith in a quiet, open and compassionate way - scattering terrible jokes as he goes.
Steve and his wife, Betsy, have four children and live in Spanish Fort, Alabama.